Look out for more information on school programs, scholarship opportunities and upcoming events.
OAKVIEW PREPARATORY SCHOOL'S
30TH ANNIVERSARY
December 5, 2021
It has been 30 years (August 25, 1991) since a tiny acorn was planted and has grown into a mighty oak tree.
We are happy to announce to all constituents, well-wishers, and supporters of Christian Education the celebration of the 30th Anniversary of Oakview Preparatory School!
Come celebrate with us, and don't forget your financial contributions are vital to our expansion program. You may send all donations to Oakview Preparatory School at 29 Chestnut Street, Yonkers, NY 10701 or online at: http://www.oakviewprep.com/donate.
We since thank you for your support in the past, making this celebration possible.
THREE-WAY PLAN
The Three-Way Plan is available for
all
The Three-Way plan is a scholarship arrangement in which an application of a

subsidy

happens when parents foot a certain amount, which is matched by the church and the conference; therefore your chhildren's school fees are discounted at the school.
To qualify, parents/guardians must be members of the local congregation, whose children attend Adventist Schools. Contact Sis. Bevan, the Education Director (WhatsApp: 516-225-7720) or Dr. Hopeton Morris, the Home & School Leader, or email nbxeducation@northbronxsda.com.
NO LATER THAN Monday, November 29th, 2021.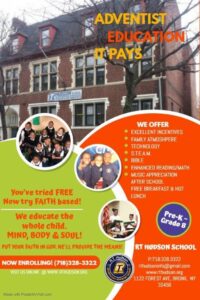 RT Hudson is now accepting applications for the new school year. They offer face to face instruction, Blended Learning and Virtual School. For more information please visit their website at rthudson.org.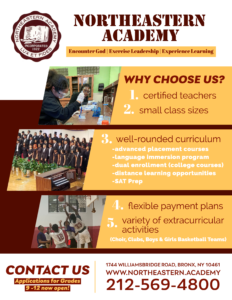 BRONX-MANHATTAN S.D.A. SCHOOL
SCHOLARSHIPS are available at the Bronx-Manhattan S.D.A. School for families that qualify and are desirous of leaving public school. For more information, please contact the principal or school treasurer at 718-588-7598. You can also visit their website at www.bmsdaschool.org. Incentives are also given to parents who recruits other students.