JOIN OUR MAILING LIST
If you would like to receive regular updates on our upcoming church activities and to be added to our mailing list, send an email to secretary@northbronxsda.org with your first and last name.

​

​
RECENTLY MOVED?
Please help us maintain an accurate record of your membership profile. Mails are being returned as undeliverable. Kindly update the clerk of your new address when you move. Please email any updates (address, telephone numbers, email​) to clerk@northbronxsda.org.
​

​
Announcements and Upcoming Events
VBS 2023 – Fiercely Faithful

God Always Keeps His Promises

July 10-21, 2023
9AM – 1PM
We are excited to announce this year's Vacation Bible School at North Bronx SDA Church, happening July 10th – 21st!
This year children will visit the Mazan Oasis, where they will learn that God is faithful.
This will be an exciting two weeks of singing, playing games, and learning about how God is faithful in good times and bad. Be sure to register your child to attend and encourage your children to invite and bring a friend! Please share with your community as we strive to teach the world about God's Faithfulness.
Please fill out the application to apply!
​
​

​​
​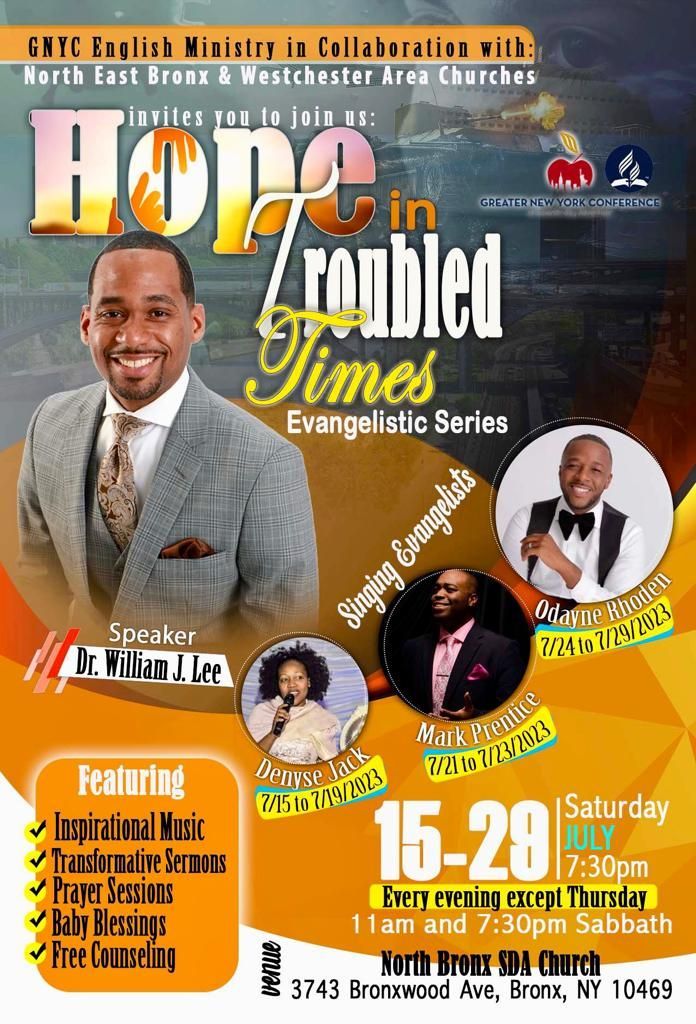 ​
​
​
​

​​
​
Hope in Troubled Times

July 15-29, 2023
Every Evening (except Thursday) at 7:30PM

Sabbaths at 11AM and 7:30PM
Please join us each night for inspirational music, transformative sermons, prayer sessions, and free counseling.

​
​
YOUTH WRITER'S WORKSHOP
2nd and 4th Sundays at 12 PM
For youth ages 10 to 14 years.
Space is limited, apply now.
Click the link below to register your child.

​
Meeting ID: 826 7572 8040
Passcode: 3duc@ti0n
​
​
MEDICATION DISPOSAL PROJECT
Are you a Senior Citizen and or disabled? Do you have some expired or unwanted prescription medication at home? We can help you dispose of them. To arrange a pick-up, please call one of the
​following persons:
Michelle Lewis | 917-885-5607
Pauline Archer | 917-792-0619
Andrea Williams | 917-692-2391
​
​​
​
​
VIRTUAL SABBATH SCHOOL
Meeting ID: 845 8148 2524
​

​​
​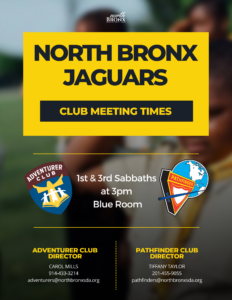 ​
​

​​
​
ADVENTURER & PATHFINDER CLUB MEETINGS
See the flyer for more information.
​
​

JOSEPH'S STOREHOUSE
In our ongoing effort to provide food assistance during this time, food items will be distributed on FRIDAYS at 9:30-11:30 AM.
It will be on a first come first serve basis. Please wait in the Parking lot while practicing Social Distancing to receive your items, you are also encouraged to wear a mask or mouth and nose covering. Please bring TWO (2) large bags if possible.
Contact Eld. Keith Williams (914-552-4041) to arrange delivery for any homebound member(s) that you are aware of that needs this service.

​

​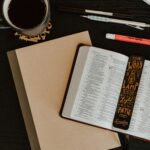 ​
​
NEW BELIEVER'S BIBLE STUDY
Every Tuesday @ 7:00 pm via ZOOM.
Meeting ID: 848 6949 1488
​
SABBATH

WORSHIP
Sabbath School at 10:00 am
Divine Service at 11:00 am
Visit our

LIVE

page to watch the service online.
​

​
GRIEF SUPPORT MINISTRY
Have you experienced a loss recently; a job or a loved one? We offer free Grief Support Ministry, open to all regardless of faith. You may register for the next session by calling 732-742-0347.
​
​

​

PRAYER LINE
Sundays to Fridays | 8:00-9:00pm
GNYC ​

BIBLE STUDIES
Do you know of someone who would like to get to know Jesus through His Word? Have him/her join us for bible studies every
Sunday evening at 6:30 pm.
Pre-registration is required! Please note that when you pre-register, you will then immediately receive the access link. You must save this link. The system does not email the link to you and if you close down your computer without saving the link somewhere you will have to reregister and receive another link.
Kindly come to class prepared with the free Amazing Facts link already downloaded.
Register HERE
​