True education means more than the pursual of a certain course of study. It means more than a preparation for the life that now is. It has to do with the whole being, and with the whole period of existence possible to man. It is the harmonious development of the physical, the mental, and the spiritual powers. It prepares the student for the joy of service in this world and for the higher joy of wider service in the world to come."

Ellen G. White, Education
Check out this page for more information on school programs, scholarship opportunities and upcoming events.
Interview with Dr. David Martin and Dr. Blue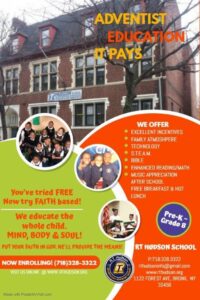 RT Hudson is now accepting applications for the new school year. They offer face to face instruction, Blended Learning and Virtual School.
For more information please visit their website at rthudson.org.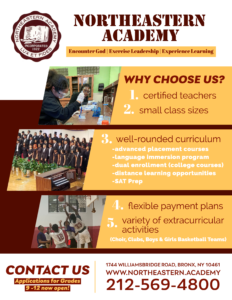 BRONX-MANHATTAN S.D.A. SCHOOL
SCHOLARSHIPS are available at the Bronx-Manhattan S.D.A. School for families that qualify and are desirous of leaving public school. For more information, please contact the principal or school treasurer at 718-588-7598. You can also visit their website at www.bmsdaschool.org. Incentives are also given to parents who recruits other students.