Youth & Young Adult Ministry
A virtual space for our teens and young adults to fellowship and engage in spirit-filled discussions about faith. These are some of the ways your youth can worship with us.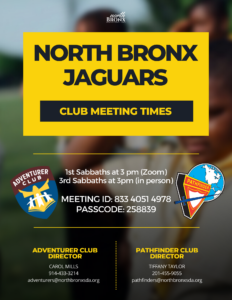 North Bronx Jaguars
Pathfinder Club
Meeting ID: 833-4051-4978
Adventurer Club Director: Carol Mills
Pathfinder Club Director: Tiffany Taylor
We Need Your Help!!!
The purpose of this short survey is to assist the North Bronx Seventh-day Adventist Church youth council, in it's youth and young adult ministry. As a member or affiliate of the North Bronx Church, your participation is extremely important.
Your participation in this study is voluntary!
It will take approximately 5 mins to complete. Your responses are confidential and we do not collect information such as your name, email address or IP address.
The survey question will be about your experience over the last twelve (12) months as an individual of faith, and seek to give us an understanding of the areas that are important to you. The result of this study will be used for and in the context of planning and developing ministry plans and initiatives in your interest.