Employment or Business Resources
EMPLOYMENT
There are some companies hiring during the pandemic.
GREENMARKET
Greenmarket is desperately seeking to hire market managers. Both full time, 3 + days a week, and part time, 1 + day a week, positions available. Please

CLICK HERE

to see the job description and information on how to apply. Shifts available immediately and the season does not end until Thanksgiving. Pay is $18/hour and shifts are typically 8-10 hours each.
R.A.I.N.
AMAZON
Click

HERE

to learn more about these exciting new opportunities.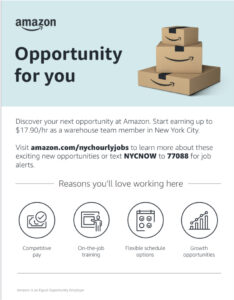 VIP JOB FAIR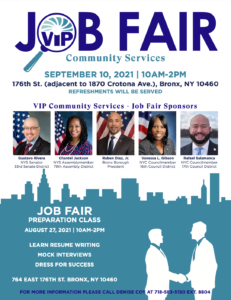 BUILDING SKILLS NY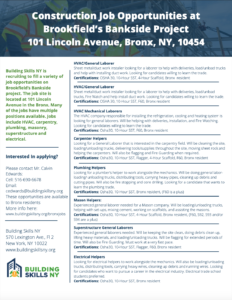 New York City's Public Engagement Unit (PEU) is hiring!
Through the American Rescue Plan, New York City has been allocated a historic number of "Emergency Housing Vouchers" to assist individuals who are experiencing homelessness or at risk of experiencing homelessness. PEU is expanding it's Home Support Unit (HSU) to help these new voucher recipients find and move into homes as soon as possible. Given the urgency of this program, the majority of these hires will happen in the next 3 weeks, so we encourage interested candidates to apply ASAP through the link below.
Bronx Legal Service Intake Paralegal Job
Bronx Legal Services is the largest provider of free civil legal services in the Bronx, and one of the largest legal services offices in New York City.
They are seeking Intake Paralegals to support the work of our office and our mission. Intake Paralegals will be expected to work closely with lawyers, clients, and community partners.
Please view the picture below for details about qualifications, benefits and applying for the position.
COVID-19 Emergency Residential Rental Assistance Program
The application portal for the NYS Emergency Rental Assistance Program opened on June 1, 2021 at 9:00am. To apply, visit the
NY State ERAP webpage.
ERAP provides assistance to New York City households who are behind in their rent. Eligible low- and moderate-income households can get up to 12 months of their back rent paid, three months of future rent, and other assistance.
During the first 30 days of the program New York State is prioritizing households that meet certain criteria. After the first 30 days, applications for all eligible households will be processed on a first-come, first-served basis, as long as funds remain available.
All assistance will be paid directly to landlords on behalf of tenants who qualify. Tenants will be notified of any amounts paid on their behalf.
For more information about how to apply, and to find out if you or your tenants qualify, visit
otda.ny.gov/erap
. There are also community-based organizations helping New Yorkers apply across the five boroughs, listed at
nyc.gov/erap
.
Building Skills NY
Are you 18 years or older, a resident of NYC and legally authorized to work in the US? Building Skills NY is providing eligible, motivated applicants the training, skills and support they need for success at no cost to qualified candidates. To learn more about this exciting opportunity, email Tatanisia Lumley (Manager of Training and Operations, Building Skills NY) at tlumley@buildingskillsny.org. SPOTS ARE LIMITED!
Nursing Job Fair
Virtual Career Fair in October. See flyer below for more information.