As a nation, we have been thrust into a season of great uncertainty
and concern. For most of us, our lives are experiencing significant
disturbances and the struggle to maintain balance and order is
increasingly challenging. This new reality has also impacted how we
experience our community as a church. In an effort to mitigate the
effects of the virus and blunt its spread we have developed a number
of systems to ensure our safety.
With the decrease in reported COVID-19 cases, we have decided to
once again

OPEN OUR DOORS

for public worship services, beginning
May 15, 2021 at 10:00 am

. At this time, we can only accommodate
up

160 people

(first come basis). To ensure the safety of all attendees,
the following guidelines were created:
Attendees will practice social distancing (6 ft).

Health screening will be conducted before entry to the building.

Everyone will be required to wear a MASK.
If you are unable to join us in person, feel free to watch us online on
Saturdays (via the LIVE page or on our YOUTUBE channel) at 10:00 am.
Keep checking our website for any further updates.
With Sympathy
The North Bronx Seventh-day Adventist Church
expresses
condolences to
THE CHANG FAMILY
as they
mourn
the passing of their
father,
The church is encouraged to keep them in prayer
during this difficult time.
We would also like
to
take
this
time to express our love and condolences
to
all our bereaved families.
"The Lord is close to the brokenhearted and
saves those who are crushed in spirit."
While we #STAYHOME during the passing of this storm, our youth & young adults will nonetheless continue to connect.
Join our
youth (18 & under)
via zoom on
Saturdays at 4pm

for an uplifting encounter.
Visit our
YOUTH
page for more information.
On
"Second Thought"
is a new ministry production of the North Bronx SDA Church tailored to grapple with the tough philosophical, theological and spiritual questions we are faced with as a society and faith community, now more than ever.
We are forever grateful for your continued faithfulness to Christ even during this very difficult time.
Many of you have asked about how to continue to give online, and alternate giving options. Visit our
GIVE
page for more information on the various ways in which you can give and support your church.
News & Events

​
​
YOUTH WRITER'S WORKSHOP
Sunday, October 31, 2021

​
For youth ages 10 to 14 years.
Space is limited, apply now.
Clink the link below to register your child.

​
Meeting ID | 826 7572 8040
Passcode | 3duc@ti0n
​
OAKVIEW PREPARATORY SCHOOL'S
30TH ANNIVERSARY CELEBRATION
Sabbath, December 4, 2021

​
Celebrate with us. Join us online via YouTube. We also solicit your financial support. Your generous contribution will help fund the school's scholarship fund, school expansion project, computer technology center, science lab and student evangelism program. Submit your donations to www.oakviewprep.com/donate.
We thank you in advance for your support and for making this celebration possible.
​
A TIME FOR HEALING
In an effort to bring awareness and support to those suffering through abuse, the GNYC and NEC have teamed up to present this program titled, A Time For Healing. There will be dynamic speakers, testimonies, discussions and training on issues surrounding abuse. The program will be hosted live via zoom. Don't forget to share the flyer with a friend.
Meeting ID | 837 6455 6599
Passcode | Women2021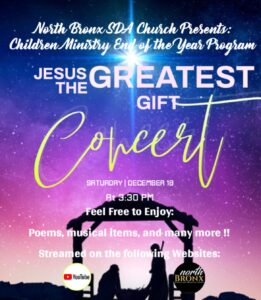 CHILDREN'S MINISTRIES END OF YEAR PROGRAM
Sabbath, December 18, 2021

​
There will be medley of poems, musical items and many more! Support our children by watching them live via our YouTube channel.
​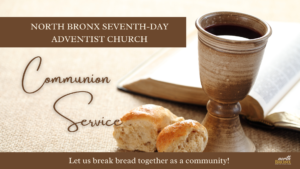 ​
COMMUNION SERVICE
Sabbath, December 11, 2021
If you will not be able to attend the communion service, you may collect your emblems this Sabbath, December 4, 2021 or on Friday, December 10 during the Joseph's Storehouse distribution (9:30 – 11:30 am). The Ordinance of Humility will be conducted virtually on Friday night (December 10).

​
Looking for a place to worship, both online or in person?
We invite anyone and everyone to attend our
Sabbath services on
Saturdays 10:00 am,
whether online (via LIVE page) or in person.
Would you like to be a member of the North Bronx Family?